Introductions are always, like, super awkward.
Hiya.
I'm not a Famous Writer, so most of you who signed up for this probably did so because you have at least a passing familiarity with who I am. Still, the long and short of it is that my name is Wayne Rée and I am a Writer of Moderate Fame (at best).
My short story collection, TALES FROM A TINY ROOM, is currently in its second print run. David Mack (yes, that David Mack) said nice things about it.
I contributed to the final edition of LONTAR: THE JOURNAL OF SOUTHEAST ASIAN FICTION. The Straits Times said nice things about the collection, but didn't specifically mention my contribution. You take what you can get, I guess.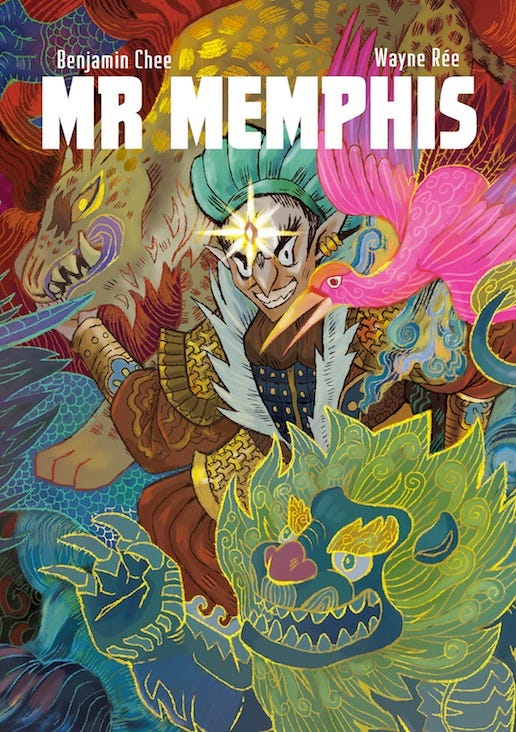 I'm also the co-creator of the supernatural/ wuxia/ western comic one-shot, MR MEMPHIS, with Benjamin Chee. We've not had any particularly prominent creators or publications say nice things about it, but Ben's a great guy and working with him was a reward in and of itself.
New editions of this newsletter are probably (hopefully) going to go out monthly and will mostly be about keeping you updated on my projects and related events. Because I am one of those annoying people that doesn't like being on social media, but I also need to do my fair share of self-promotion. I'm not a Famous Writer, remember?
So, what is new?
I've written a review of Meihan Boey's insane pop sci-fi debut novel, The Messiah Virus, for BooksActually, a wonderful independent bookstore in Singapore whose publishing arm, Math Paper Press, put out TALES FROM A TINY ROOM. I used to be an honest-to-goodness proper movie reviewer in the early two-thousands, so writing a new professional review after all this time fired up parts of my brain that haven't been exercised in quite a while.
---
I've also written a couple of posts for Singapore Comic Con's (SGCC) social media pages, including this, this and this . I got a particular kick out of that last one. I've been a fan of Jim Mahfood for about twenty years, so it felt great to craft the announcement that he'll be a guest at SGCC this year.
---
My friends, Kyle Ong and Paul Hendricks, and I have been working on a project called HANTU. It's a multi-format, multi-platform channel for supernatural-themed content, which is really just a fancy way of saying that we're making short films and podcasts about ghosts and demons, and throwing them online. Our first project is an audio narrative called GHOST MAPS. Two episodes are already out, so be sure to follow us on Facecbook if you want to keep up.
What didn't happen?
I submitted an essay to Better Than IRL, an anthology from Fiction & Feeling about finding like-minded people on the untamed internet. Unfortunately, it wasn't accepted. I was disappointed, obviously, but Katie West, co-founder of Fiction & Feeling, sent me the sweetest and most thoughtful response.
It's not every day that you feel encouraged by a rejection letter, but I guess that's a testament to the kind of publisher Fiction & Feeling is. Here's hoping that I get to work with them one day.
You can pre-order a copy of Better Than IRL here.
What's going on with you though?
I've got an accelerated heart rate—and, no, it's not just because I'm excited to see you.
I went to the doctor the other day and he got me an appointment with a cardiologist next month. Now, obviously it's nothing super serious, but the doc says that stress is most likely a factor.
That's why, aside from my date with the heart specialist, I'm also going to start seeing a therapist next month. This is something I knew I've had to do for a while. It's not been a great year, to put it mildly, and despite my best efforts and the best efforts of the people closest to me, I've spent too much of 2019 feeling like I was drowning.
Depending on how that first session turns out, I may talk about it a bit more in the next edition of this newsletter.
How about a photo break?
Go on then.
So, what's coming up next?
I've got another book review for BooksActually. It'll probably be online when the next edition comes out.
---
I'll be involved in SGCC itself. Details are being finalised, but I'm most likely going to be participating on one panel and moderating at least one other. Get your tickets here. (I wrote a couple more posts for them too. Those'll probably go online over the next month or so.)
---
Ben and I are working on another project together. Let's give it the code name PROJECT: CUSTODIAN for now. A lot of details need to be settled (I haven't even written the story yet!), but I can definitely say two things.
One is that it'll be similar to how MR MEMPHIS worked, where I'll write a short story and Ben will remix it with wildly and wonderfully contrasting aesthetics, while also making the story his own. The other is that we're collaborating with some very solid people, folks that both Ben and I have wanted to work with for a while.
More news when we've got something more to tell.
So, now what?
Now, you and I part ways for about a month.
I've called this newsletter a constant work-in-progress. At one point, I contemplated not sending out this inaugural edition. At another, I was considering redirecting my waynereewrites.com URL to the newsletter's About page instead.
I'm sure by the time the new edition rolls around, I'll have a better idea of what I want to do with this. So, until then, here's a reminder of where you can get my books.
TALES FROM A TINY ROOM | LONTAR #10 | MR MEMPHIS
If you've already subscribed to this newsletter, thank you. If you're viewing this on the web, hit the button below to get signed up.
See you all in a month.
- WR